Applications for membership require the sponsorship of two members in good standing of the Club. When applications for membership are received, they are dated and place on one of two waiting lists: an in-town list and an out-of-town list.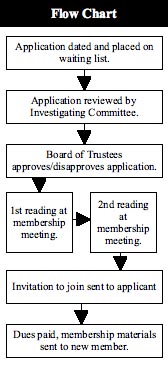 These applications are then sent to a committee which conducts an investigation and returns a favorable or unfavorable recommendation.
As vacancies occur, applications are taken up in order from the appropriate waiting list and reviewed by the Board of Trustees.
Following approval by the Board, the application is presented at two successive monthly membership meetings, referred to as the first and second readings. In the rare instance that a member objects to an applicant, the PCYC Constitution provides a process for resolving the problem.
Following the two readings before the membership, the applicant is sent an invitation to join by certified mail, and has 15 days to accept or decline the invitation. An applicant who declines the invitation may not reapply for membership for at least six months. Once the invitation is accepted and dues and initiation fees paid, a membership certificate, membership cards, and other materials are sent out.
Our membership year runs from January 1 to December 31, and so we usually have a number of vacancies to fill at the beginning of the year, with a much smaller number of vacancies occurring through the remainder of the year. In-town applicants can expect to spend up to a year and a half on the waiting list, while out-of-town applicants generally spend much less time. Of course, the actual time will vary with the number of applicants and vacancies.